New to Merlin Annual Pass? Check out our latest Passholder FAQs
Wednesday April 6th 2022
Merlin Annual Pass
FAQs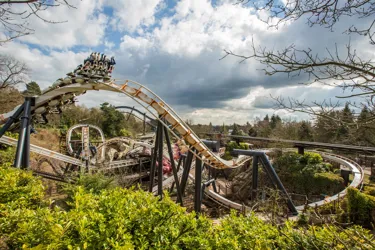 As our Merlin Membership sale comes to an end, we'd like to say "hello and welcome" to all our new Merlin Annual Passholders. We're so excited to have you on board as a Passholder and we hope you're looking forward to a year of EPIC adventures with us!
We know there's lots of information to take in as a new Passholder, so here are some frequently asked questions from our Passholders that we thought we'd answer for you. If your questions aren't answered here, don't worry! We've popped our customer service team's contact details below for you.
When will I be issued with my carer's pass? And can I visit without a carer pass?
Carer passes can take up to 14 days from your initial application. We know you're eager to visit the attractions so whilst you wait for your pass to arrive, please take your carer documentation with you to the attractions who will issue you with a one-day ticket.
I'm struggling to make pre-booking with my Merlin Gold Pass – what's the issue?
When pre-booking please ensure you're clicking the Gold Pass option and not Premium Pass. Premium Passes look similar as they are gold in colour, so Passholders sometimes mistake them for the Gold Pass.
When will my pass arrive?
Please allow 30 days for your physical pass to arrive in the post. Please note that our passes are delivered by DHL so keep an eye out on your emails in case they contact you about your delivery. Until your pass arrives you're welcome to pre-book and visit with your digital pass.
Can I visit without a physical pass?
All our Merlin Annual Passes are now digital, so there's no need to wait for your physical pass to arrive before you visit us. You will have received your digital pass via email. Please use the barcode on the pass to pre-book your visit online. Learn how to use your digital pass here.
There are currently day tickets available but no tickets for Passholders – what's happening?
So long as day tickets are available at the attraction, Passholders should also be able to book. Our attraction teams update Passholder tickets daily, so please check back over the next 24 hours if a date appears to be unavailable. Do let us know ASAP if you're having trouble booking via Twitter or LIVE chat and we will get in touch with the attractions.
I'd like to upgrade my pass – how do I do this?
If you're a Membership Passholder who's within their 14-day cancellation period, our team will offer you a refund so you can purchase a different pass. You can contact the customer service team here. If you're outside of your cancellation period, unfortunately you won't be able to cancel but you can take advantage of our restricted day upgrade tickets here.
If you have a question for us, please reach out on Twitter, via email at info@merlinannualpass.co.uk or on LIVE chat. Our customer service team are dealing with a high number of enquiries currently and will reply to you query as soon as possible – thank you for bearing with us.