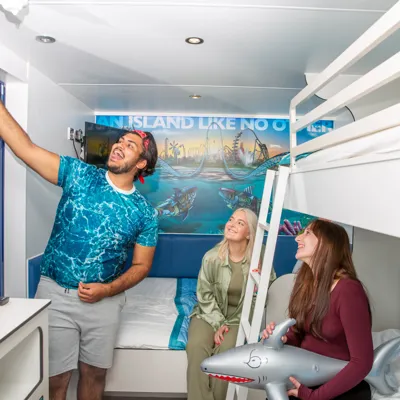 A Hotel Like No Other!
Save up to 20% off! Located on the shores of the Island, enter the giant gaping jaws of a monstrous mechanical shark-like creature as you embark on an adrenaline-fuelled short break at the Thorpe Shark Cabins – a hotel like no other! 
The unique hotel situated on the THORPE PARK Resort Island features bite-sized rooms that sleep up-to four in a stunning waterfront location, only a fin away from the UK's most thrilling coasters.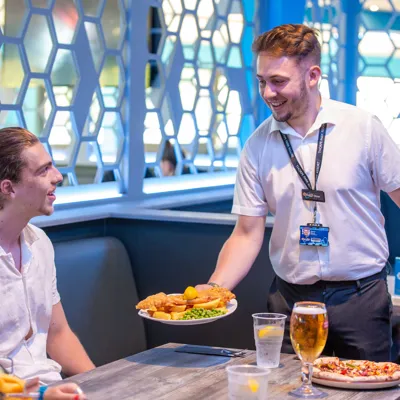 And after an exhilarating day in the park, each jawesome room guarantees to give even the most excitable sleeper a great night's rest. Each cabin features a rain shower wet room, air-con, free Wi-Fi, changeable mood lighting and a flat screen TV with entertainment packages. 
PLUS - Wake up to a delicious hot breakfast at Infinity Bar and Kitchen or a 'Grab & Go' Costa Coffee breakfast from The Coffee Shack included with your stay.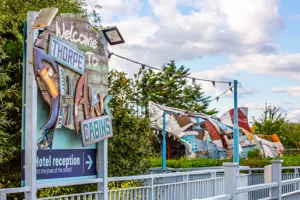 Save on your stay with your Annual Pass!
With your Merlin Annual Pass you can enjoy a thrilling day of rides, attractions and live events, including the UK's fastest rollercoaster Stealth! Then stay overnight in the jawesome Thorpe Shark Cabins – or one of our partner hotels located nearby — before returning again the next day for more adrenaline packed adventure at the park.

Remember that with your Merlin Annual Pass you can bring up to 5 of your friends and family along for a great value day out!
Please note, you must book on the page linked below to get the discount.
Book Now