The London Eye
Standing tall on the south bank of the River Thames, nothing says iconic like The lastminute.com London Eye.
Nothing says iconic like The lastminute.com London Eye
Since 2000, we've taken over 70 million people on a journey into London's Skyline. From first dates to couples saying "Eye do". School trips to DJ sets. Visits from Hollywood royalty, sports royalty and actual royalty. Our 32 capsules – one for every London borough – have seen it all over the years.
The London Eye is the most popular paid attraction in the whole of the UK.  And no wonder – it's the only view of the city that moves. Set in the heart of the London you can get up close to Big Ben, The Houses of Parliament and Buckingham Palace and see as far as Windsor Castle on a clear day.
So whether you're a London local or just visiting, go one better than looking at the iconic skyline. Take flight with us!
Please note, The lastminute.com London Eye will be closed for annual maintenance from Monday 8th January - Sunday 4th February 2024.
Buy Your Pass Now
How do I use my pass at this attraction?
Passholders must pre-book before visiting the attraction.
Platinum, Gold and Premium Passholders enter via the fast-track entrance, and Discovery and Standard Passholders should use the standard entrance.
Pre-book Today
How do I contact the team at The London Eye?
For more information about The lastminute.com London Eye, please visit their website. 
To contact the team, please visit their Contact Us page.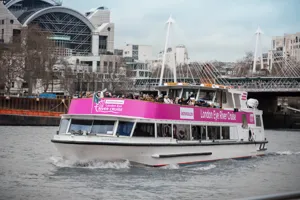 The London Eye River Cruise
At the heart of the city, the unique and award-winning sightseeing cruise dominates the river. Ditch dry land and hop aboard The London Eye River Cruise, which takes you on a tour of the city's most popular riverside landmarks from the perspective of our famous river.  Even better Pass holders get a 50% discount!
We've also got you covered with expert guides who know exactly how to keep you entertained whilst bringing the city to life. From fun facts about Millennium bridge and Harry Potter to the history of the Houses of Parliament and many more landmarks. The commentary gives you the facts and laughs to create that unique experience you're after!
Cruises depart every hour and opening times vary so please visit our website for more information.
Tickets can only be purchased on the day upon presentation of a valid Merlin Annual Pass. You can purchase tickets from the Pier Ticket Office situated on the right-hand side of The lastminute.com London Eye.
Find out more