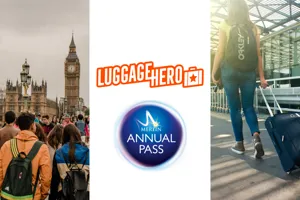 Travelling to an attraction with a heavy bag? Drop it off at one of thousands of Luggage Hero locations in the UK for free storage for one bag for up to 2 hours! * If you'd like to leave your bag longer Luggage Hero have a pay as you go rate where you can pay for storage hourly. And the best part is that only certified local shops are approved as Luggage Heroes meaning that you can trust your bags will remain safe while you enjoy our attractions!  
How Luggage Storage works in 3 steps -  
Click the booking link, then find your luggage storage and book on online.

 

Drop off the luggage at the LuggageHero partner location (directions will be sent after booking) then start the timer on the Luggage Hero App. 

 

Pick up your luggage later and stop the timer on the App.

Pa

yment is processed when stopping the storage timer. This allows Luggage Hero to calculate the total based on the hours spent in storage. So, make sure you don't go over your allotted 2 hours! 

 
To find out more about Luggage Hero you can email them or use their live chat feature. Please also see the full terms and conditions here. You must book through the link below to get your discount. 
*This offer does not include the service fee cost and optional extras like insurance. 
Book now
Discovery Pass - Silver Pass - Gold Pass - Platinum Pass - Standard Pass - Premium Pass
Locations