20% off Dragon Slayer at Warwick Castle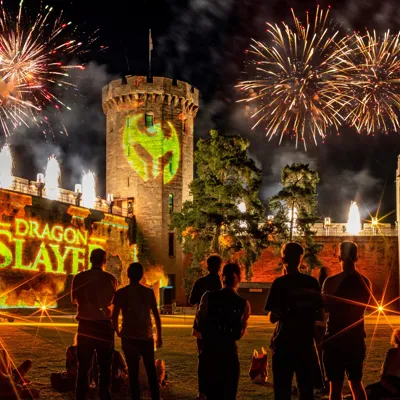 20% off Dragon Slayer at Warwick Castle
The myth becomes reality in this gripping theatrical experience, only at Warwick Castle. Unearth the legend of Guy of Warwick, joining him on his quest as he attempts to prove his valour to Princess Felice.
The story unfolds in a live-action performance, encompassing thrilling stunts, majestic horses and daring swordsmanship, before the breath-taking finale where projection mapping blended with live-action brings the legend to life on the walls of the castle itself.
You'll battle giants, fight the Dun Cow, and come face to face with a fifty-foot-tall fire-breathing dragon as the castle transforms, illuminating the skies of Warwick with the legend of the Dragon Slayer. 
Passholders get 20% off with code 'DSPASS'. Simply enter the code at check out to redeem your discount.
Silver Pass - Gold Pass - Platinum Pass - Standard Pass - Premium Pass