20% OFF in TGI Fridays™ Restaurants
Discovery Pass - Silver Pass - Gold Pass - Platinum Pass - Standard Pass - Premium Pass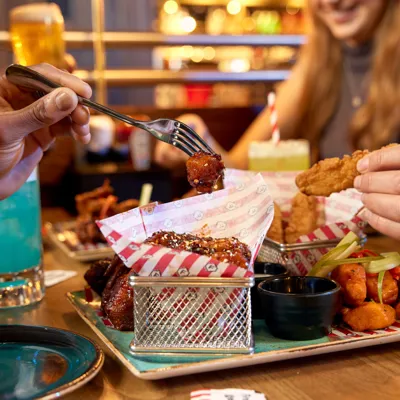 Exclusive Discount!
Attention grill-eaters and thrill-seekers! We've teamed up with TGI Fridays™ to give you the ULTIMATE restaurant offer to end your epic days out. Passholders can now get 20% off food at TGI Fridays™ restaurants in over 80 locations in the UK!
Celebrate your thrill-seeking adventures the TGI way with delicious food, including Fridays® Sesame Chicken Strips, Fridays® Messy Cheeseburgers, and so much more!
And the best part is, there are so many TGI Fridays™ locations right on the doorstep of our attractions. So, now you'll never be stuck on deciding what's for dinner.
Terms & Conditions
Thursdays (UK) Limited (trading as TGI Fridays UK) ("TGI Fridays", "us" or "our") is offering 20% off food items at its TGI Fridays restaurants to Merlin Annual Pass holders.
1. This offer:
1.1. entitles any individual who is a valid Merlin Annual Pass Holder to 20% off their food bill when dining at TGI Fridays;
1.2. is valid for up to 6 people per Merlin Pass;
1.3. is only valid from 13th October until 31 December 2023 inclusive;
1.4. can only be redeemed at all TGI Fridays restaurants in England, Scotland and Wales and excludes our TGI Fridays restaurant in Jersey;
1.5. applies to the food items ordered only and does not apply to anything else, such as, for example, drinks or vouchers;
1.6. cannot be used for any click and collect or dine out orders;
1.7. cannot be exchanged for anything else or used in conjunction with any other offers or promotions (including, without limitation, any set menus, any UNiDAYS, Blue Light Card or other partner promotion or discount, Bottomless Brunch (in our English and Welsh restaurants) or Bottoms Up Brunch (in our Scottish restaurants), Cocktail Masterclasses, any other TGI Fridays' Rewards Kids Eat Free, Free Dessert Welcome offer, or any Stripes Rewards that discount the price of the adult main course);
2. Pass Holders must show their current, valid Merlin Annual Pass to their server in order to redeem this offer. Guests are strongly advised to show such proof to their server before they order to ensure that it is satisfactory. The guest will be liable for the full cost of his / her meal if the guest does not have their Pass or if it is, in the opinion of TGI Fridays' management, unsatisfactory (e.g. if it is damaged and the pass details are illegible).
3. TGI Fridays' management reserves the right to withdraw this offer without notice or change these terms and conditions at any point. The decision of TGI Fridays' management is final in relation to all matters relating to the offer and these terms and conditions.
4. These terms and conditions shall be governed by the laws of England and Wales and subject to the jurisdiction of the English courts.