Chessington Announces Jaw Dropping New Ride for 2021 – Croc Drop
Tuesday February 16th 2021
Merlin Annual Pass
New for 2021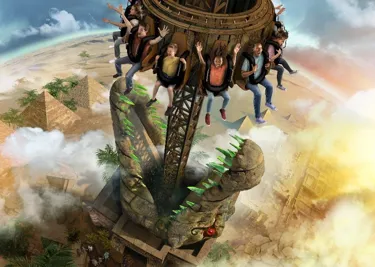 Coming in April 12 2021, Chessington World of Adventures have today announced a jaw-dropping NEW ride called Croc Drop! This brand-new drop tower ride at our family Theme Park and Zoo in Surrey is the first new ride since 2013 and represents a multi-million-pound investment.
Set to 'drop' this Spring, brave explorers will plunge 25m into the giant jaws of a crocodile, Sobek, the ancient Egyptian Crocodile God and protector of the Nile, who has been possessed by evil spirits, transforming him into a cruel deity. With the once fertile Nile laying stagnant, riders must take part in a ceremony to banish the evil spirits from Sobek, plunging into the crocodile's soul and releasing the waters back into the Nile. Will you brave the drop and release the curse? 
Passholders a minimum height of 1.2m* must brave the drop to release the curse!
Tim Harrison-Jones, Divisional Director at Chessington World of Adventures Resort, said: "We're thrilled to announce our NEW ride, Croc Drop – it's going to be a great addition to our Theme Park, which along with our Zoo and Resort Hotels are temporarily closed until it's appropriate to reopen, as we adhere to Government guidance in response to COVID-19.  
"The one-of-a-kind drop tower has been over two years in the making and is nearing final construction in our Land, Forbidden Kingdom - just at the sight of it, let alone the thrilling ride itself, guests' jaws will drop!"
Passholders can sign up at Chessington.com/2021 to be one of the first to hear when Chessington World of Adventures Resort reopens, and when you can 'drop' on the NEW ride.
*Passholders between 1.2m and 1.3m must be accompanied by an adult over the age of 16, while those a minimum height of 1.3m can 'drop' alone