Introducing The Merlin Discovery Pass
Monday November 23rd 2020
Merlin Annual Pass
New Passes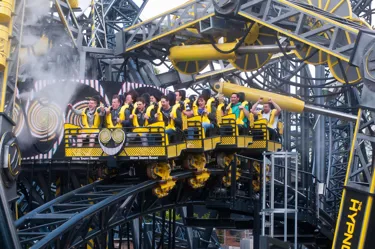 The season may be over, but we're just getting started at Merlin Annual Pass!
Since we removed our passes from sale earlier in the year, we've been working away behind the scenes to enhance our range of passes to ensure we're providing both magical days out and the very best value for money for you our Passholders. Back in September, we asked for your opinion on Merlin Annual Pass and your experience as a Passholder, and we're excited to announce that your feedback was incredibly useful in helping us shape the future of the Merlin Annual Pass line-up!
So, without further ado we'd like to introduce you to the first of three new passes… The Merlin Discovery Pass – the lowest price Merlin Annual Pass EVER!
What is the Merlin Discovery Pass?
The Merlin Discovery Pass is a weekday passport to our magical Merlin attractions during term time! This weekday pass unlocks over 180 days access to the UK's biggest and best attractions for the smallest price.
Unlike with other passes, Merlin Discovery Pass is a digital pass meaning you won't need to worry about forgetting your Annual Pass cards when leaving the house! Instead, tickets will be emailed directly to your inbox where you can simply add them your Apple wallet, or just save the e-mail containing your ticket if you're not an Apple user.
Then dive in and take advantage of Britain's most exciting and exhilarating experiences during the periods that the attractions receive their lowest crowds! With the Merlin Discovery Pass, you'll enjoy all the fun and adventure you'd expect from a Merlin Annual Pass but at a price you wouldn't! You can find a full list of the pass exclusion dates here.
Is the Merlin Discovery Pass the right pass for me?
The Merlin Discovery Pass is the perfect choice for those who are looking to create magical moments on weekdays during term time. If you're someone who is happy to forgo the bells and whistles, such as extra discounts and access on the busiest days, this weekday-only pass could be the right choice for you! Perhaps you're a parent with a young child to keep entertained, a student who has a free weekday to fill with your friends, or a freelancer who fancies taking on your next big rollercoaster on your day off – this pass could be ideal for you!
Take a look at the chart below, to help to you decide:
| | |
| --- | --- |
| I have/look after pre-school children and need to keep them entertained during the week | ✓ |
| I am currently studying and have free time during the week | ✓ |
| I currently only work on the weekends and my days off fall during the week | ✓ |
| I am a freelancer or part-time worker and often have free days during the week | ✓ |
| I want to visit the attractions on the weekends | X |
| I want to visit the attractions during the school holidays | X |
| I want to visit the attractions in August | X |
| I want to go to special events at the attractions such as Halloween | X |
| I would prefer to wait and see what the two other new passes offer | X |
Our attractions receive the lowest crowds on weekdays during term time, which is great news if you're interested in purchasing a Merlin Discovery Pass! For families with little ones to entertain during the week, the Merlin Discovery Pass provides that much-needed flexibity we know is important to you when you make your booking. And for the avid adventure-seekers out there looking to make magical and memorable experiences during the week, you too will be able to take advantage of our attractions when they receive their lowest crowds, meaning shorter queue times, more rides and plenty more WOAH-moments!
And never fear – if the Merlin Discovery Pass is not the one for you then sit tight. The Merlin Discovery Pass is the first of three new passes we're launching this year, so keep an eye on our website and social channels for more details on these coming your way very soon.
The Merlin Discovery pass is available to purchase now in our Black Friday Sale at an introductory price of just £69 – that's £20 off the regular out-of-sale price of £89! Your 12-months will begin when our attractions re-open.
Purchase your Merlin Discovery Pass here.
Buy Your Pass Now