Your new Pre-book Portal is here!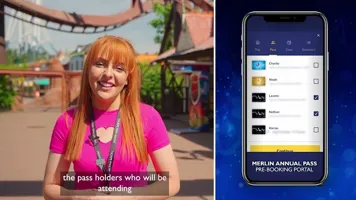 Passholders!
With our new portal, your next magical adventure is just a few taps away! Designed with your feedback in mind, features include:
Your own personal account, so no need to enter your full details every time!
Ability to manage adventures for friends and family
Booking wallet, to easily view all your upcoming trips in one place
Ability to amend or cancel bookings with just a few taps!
And loads more!
Create your Passholder account today and begin to manage your bookings and passes.
Create your Passholder account
Please use the email address which is linked to your pass.
You don't need to create an account for every Passholder in your group – you can create one and add additional passes.
The old pre-booking system will still work for now. Please amend any existing bookings in the old portal as they will not show in the new pre-book portal.
Create Account
How to pre-book your next adventure!
Create your Passholder account
Click the link above to create your Passholder account. Follow the steps and verify your identity by email.
Add your pass(es)
Once you're in, click 'add pass' to get started. You'll need to register your pass ID and verify this by email. You can then add additional passes.
Create a booking
To create a new booking click 'book a new trip'. You can then choose your guests and a date & time for your adventure.
View your upcoming trips
All your upcoming trips can be found on Manage Trips, where you can also view your tickets.
Enjoy your day out!
You're now ready to have an awesome day out with your family and friends!
FAQs
Our initial launch of the hub is exclusively for Platinum Passholders only, but as we branch to include other Pass tiers, you should be able to add Passes of any tier (Merlin Annual Pass or Local Annual Pass) onto your bookings. Please note that the booking restrictions are limited by the lowest tier of Pass in the booking journey – If you had a Discovery and a Platinum Pass for example, the dates available would be restricted to the Discovery Passes restrictions.
This pre-book portal is now available to all Merlin Annual Passholders and local Annual Passholders to use!
If a date is appearing as greyed out, this will either be due to restrictions on one of the Passes being used to book, the attraction being closed or the attraction you intend to book is sold out for that specific date. If you have checked the relevant restrictions calendar for your Pass and the date is not greyed out, but day tickets are still available for purchase, please contact the Merlin Annual Pass Contact Centre to inform us and we can investigate into the attraction's availability.
To add an additional Pass to your account, you can select "Add new Pass" and then enter your friend's barcode, as well as a name/nickname to associate with the Pass. An email will then be sent to the email associated with the Pass to verify that the passholder gives permission for their Pass to be added. Once approved, this Pass will then appear in your hub.
You can change your existing bookings by going to "Your upcoming trips" in "Manage Trips" and then clicking the pencil icon. From here, you can reschedule a booking, as well as change which Passes you'd like on this booking.
You can cancel an existing booking by going to "Your upcoming trips" in "Manage Trips" and then clicking the bin icon. This will take you to a confirmation screen where you can cancel an existing booking.
Carer Passes can be added like any other Pass – if they're already associated with your email address then they should be automatically added. If not, add the Pass barcode and verify using the associated email and it should appear. Carer Passes will still continue to behave like a Carer Pass normally would, requiring pre-booking alongside the Pass requiring a carer and will require presentation of the valid Carer Pass and associated Annual Pass when visiting an attraction.
If your account is deleted your bookings will still exist. If a new account is made using the same email address then the bookings will become visible again.
The bookings will still exist within the hub unless individually cancelled, however your ticket will no longer be valid upon scanning at an attraction. The Pass being removed or deleted from an account will retain all the bookings under this Pass and the bookings will need to then be manually removed or amended to no longer include this Pass.
When on the "choose your Passes" page, all attractions where Under 3s tickets would be required have the option to "add an Under 3s ticket" at the bottom of the page. Please note that Under 3s are not permitted at Bear Grylls Adventure or any of The Dungeons attractions. An Under 3s reservation is not required for Chessington World of Adventures Resort, LEGOLAND Windsor Resort, THORPE PARK Resort, SEA LIFE Manchester or SEA LIFE Blackpool.
Don't worry, all existing bookings are still valid. These will not be reflected on the Pre-book Portal so please ensure you keep your prebooking email for these visits handy when entering an attraction.
If you have trouble with your account or spot something that isn't working, please contact the Merlin Annual Pass Contact Centre team and they can investigate this with you.
Unfortunately you won't be able to purchase Share the Fun or Friends and Family tickets through our new hub, but they can still be purchased through the site that you wish to obtain them from. If you wish to book Share the Fun tickets, please head here to book.
All paid extras currently have to be purchased through the relevant site website (or, where available, on site from any open Admissions/Fastrack units).