Manjit's Bear Grylls Adventure Experience
Tuesday August 27th 2019
Manjit - Merlin Passholder
Things to do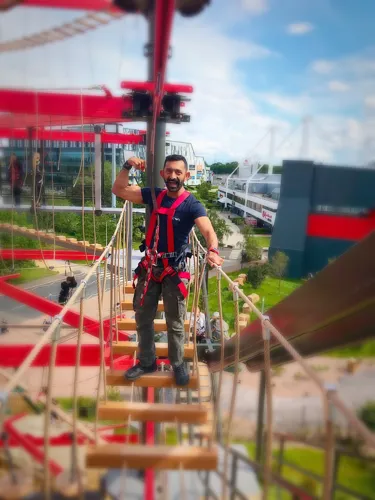 Let me share with you my experience. So this June I went to the Bear Grylls Adventure in Birmingham, for the 2nd time.
As my twins were a little young for this adventure and assault courses are not my wife's thing; me, Jazmin and our friend Kam went. We booked Base Camp and High ropes. Unfortunately, the weather for the day was very very windy and the Bear Grylls team contacted us 2 days before and offered to give us the Climb instead and hold off the high ropes for another day. Which I thought was brilliant customer service.  
Wow! What an amazing trip to Bear Grylls. We did Basecamp and Climb, Basecamp was ace. We loved the escape maze...a lot of fun. As me and Jazmin are fitness professionals we loved the assault course. Kam also enjoyed it, it was great fun. The archery was brilliant, we had never done anything like that before. Although me and the twins did have a little go at Warwick Castle a few months ago. Of course I got a better score than the girls, ha ha. The escape room was fun, a little short just about 7 mins a room, but we were proper bamboozled!!
So for our 2nd trip to Bear Grylls, this time Kam was not well on the day, and I spoke with the reception staff, they were magnificent! They held her activities so she could come again when she was feeling better. Of course we will go with her again! 
So we had already experienced Base Camp, the adventure assault course and the brilliant Climb! Base camp 2nd time round was still brilliant, a lot easier especially the escape rooms. This time me and Jazmin pretended that we were just super clever and cracked both rooms in minutes, ha ha. We booked the High Ropes for that day. The High Ropes were fab, especially the helicopter zip line, you zip slide out of the back end of a Chinook helicopter! Amazing! This is Europe's highest high ropes course. The giant climbing frame defo' brought out the inner Tarzan in Jazmin! I climbed to the top but I think in my older age I didn't jump about as much as her! My excuse was "I have children to look after I'll just stand here" ha ha.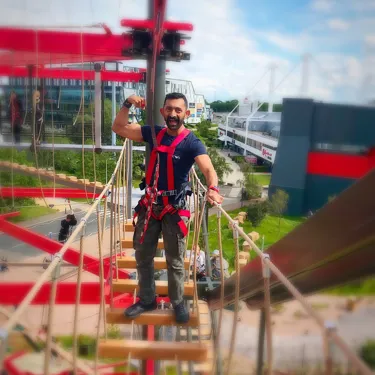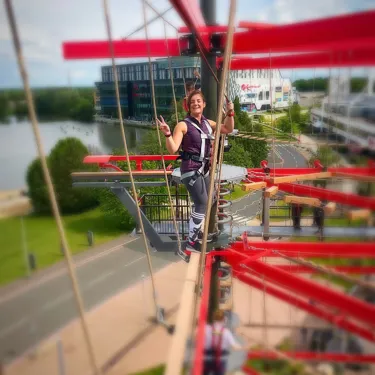 We also did the iFly, this was our favourite, absolutely fantastic! One at a time, we jumped into a vertical wind tunnel to experience skydiving! The staff are great and amazingly skilled at it! And you feel so safe! No previous experience was needed, but balance and stamina are key.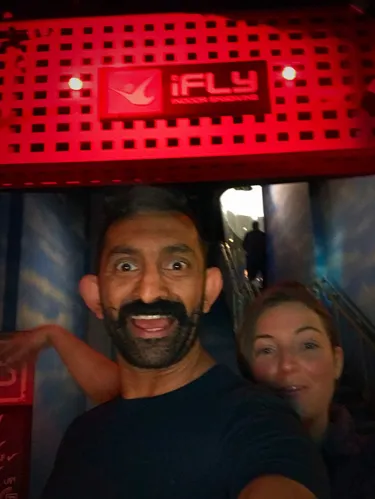 Overall it is a brilliant day out! Highly recommend and with our Merlin pass discount it was such good value. Passes don't get you in free but do give you a pretty good discount and in the winter when the parks are closed it is a great place to visit and all of it is indoors (except the high ropes of course). You can get fantastic offers like £1 for Base Camp; that's what we did the 2nd time! 
And to prove that you've done it, you get free digital photos from each challenge. That's a bonus!
We are definitely going again! And going to book Dive for the 3 of us! This looks absolutely amazing! It's over an hour experience which includes expert instruction and briefing, which is good for me as I cant really swim! So we get to swim (walk in my case) with the sharks!
Buy Your Pass Now