Adventures await at Blackpool's newest attraction, Peter Rabbit™: Explore and Play
Friday January 28th 2022
Merlin Annual Pass
New for 2022, Things to do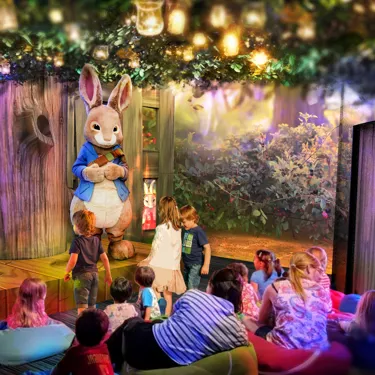 Passholders, did you hear?! Characters from the award-winning Peter Rabbit™ Cbeebies TV series have made a new home at Blackpool alongside our six other attractions including The Blackpool Tower, SEA LIFE Blackpool and Madame Tussauds Blackpool!
The Peter Rabbit™: Explore and Play attraction opens Saturday 12th February.
The new experience gives Passholders the opportunity to hop into the over-sized world of Peter and his friends to embark on an adventure across five fluffy-tailed themed zones. You and your Junior Passholder can explore Mr McGregor's Garden, Jeremy Fisher's Pond, The Burrow and Mr Bouncers Invention Workshop… and more!
You'll need to think and move like a rabbit as you complete challenges to earn badges! Will you have what it takes to become a Secret Treehouse Club Member?
Passholders will also be able to meet, greet and 'high-paw' with Peter himself – making the experience a bumper bunny day out!
Passholders can book the experience at the below discounted rates:
Book now
Kate Shane, Regional Director for Merlin Entertainments, said: "We are thrilled to be welcoming such an icon to Blackpool! Peter Rabbit is a well-loved household name for young and old and is globally renowned. We are delighted that this new attraction concept will be created here in Blackpool first. We firmly support Blackpool's overall ambition to be the UK's number one family seaside resort and with such a family-favourite brand joining our Blackpool Cluster of attractions we can't wait to 'hop' to it and get the experience open next year."
Lisa Macdonald, SVP Consumer Products and Content Sales at Silvergate Media, said: "We're excited to partner with Merlin Entertainments on a new stand-alone attraction that brings the animated adventures of Peter Rabbit and his friends to life for families in Blackpool. Harnessing the multi-generational appeal of Peter Rabbit to create a unique brand experience and unforgettable day out will enhance its enduring popularity for generations to come."
© Frederick Warne & Co Limited and Silvergate PPL Limited, 2022. Based on the works of Beatrix Potter. PETER RABBIT and BEATRIX POTTER are trademarks of Fredrick Warne and Co. All rights reserved.