1 FREE box with £1 postage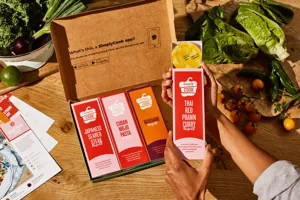 Passholders can try Simply Cook, the subscription-based recipe service delivered straight through your letter box! Get your first box for FREE and pay only £1 for postage.  
Each box contains 4 recipe cards and accompanying spices to create restaurant quality meals from your own home. Recipes include tasty recipes of your choosing including anything from Chicken Makani, Korean Beef Bulgogi, Nasi Goering, Masala Lamb Chops and more.  
Please note that by signing up to this offer for a free box you are subscribing to Simply Cook. You can CANCEL your subscription at any time including after your free box has arrived to ensure you are not charged.
Claim now
Discovery Pass - Silver Pass - Gold Pass - Platinum Pass - Standard Pass - Premium Pass
Simply Cook Terms & Conditions: 
*By signing up to this first free box with £1 postage, you will be automatically signed up to a £9.99 subscription to SimplyCook. You can change or cancel your subscription in the 'Manage Subscription' section of the SimplyCook website. You can cancel your subscription seven days after ordering your first box. This offer is valid for new customers only. One free box per household. Cannot be combined with any other offer. UK delivery only, including Northern Ireland, excludes delivery to the Channel Islands. For full terms and conditions, visit https://www.simplycook.com/terms-and-conditions