THORPE PARK Resort
With more than 30 thrilling rides, attractions and live events, THORPE PARK Resort is an island like no other and the place to scream louder, laugh harder and share endless fun.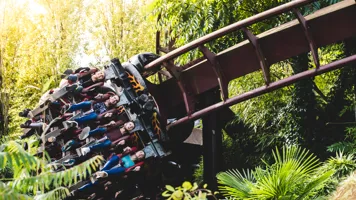 An Island Like No Other...
With over 30 thrilling rides, attractions and live events, THORPE PARK Resort is truly an island like no other and a must-visit for those looking to embark on an exhilarating adventure with friends and family. 
Brave the incredible launch of the UK's fastest coaster Stealth, swerve through near-misses on the UK's only winged roller-coaster THE SWARM and plunge the 100ft 'beyond vertical' drop of the horror movie themed coaster SAW-The Ride as you take on some of the UK's most thrilling coasters. 
Younger theme park fans can grab their adrenaline apprenticeship as they journey on our awesome junior coaster Flying Fish, before enjoying exhilarating rides such as the gravity defying Zodiac and a magic carpet flight on Quantum. PLUS experience the wettest water rides in the UK including the super-soaking Tidal Wave. 
Join the thrill-makers for a season of infinite thrills with intense coaster action, immersive events and exhilarating experiences. 
How do I use my pass at this attraction?
Passholders must pre-book before visiting the attraction.
Glide magically to the Priority Passholder entrance (to the right of the turnstiles) and use your Merlin Annual Pass with your reservation to make your way onto the Island Like No Other.
Whenever you decide to take a break from the endless thrills and excitements, show your Merlin Annual Pass to save up to 20% on your shopping and dining at specially selected shops and restaurants. 
We take the safety and security of all of our guests extremely seriously. If you're coming to the park, please ensure you arrive in plenty of time to pass through our enhanced security checks, please note larger items will take longer to pass through the security checks i.e. suitcases, rucksacks and pushchairs.
Our security team are in place for your safety and we ask you to fully cooperate with all checks and support our team in ensuring they carry out their important work efficiently.
How do I get in touch with THORPE PARK Resort?
For more information about THORPE PARK Resort, please visit their

 

website. 
To contact the THORPE PARK team, please visit their

 

Contact Us page. 
For any concerns or complaints, you can contact the THORPE PARK team directly

 

here.